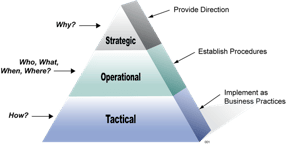 B3GLOBALCON and its Seaport-e team mates fully understand that Quality Assurance (QA) is a Government responsibility and that Quality Control (QC) is a contractor responsibility. Working as a viable and productive partner with the Government, the B3GLOBALCON Seaport-e Team will incorporate a three-tier quality system into our management approach provides the framework for the early and continuous identification and resolution of problems and uniform management of delivery orders.
Our delivery of quality products and outstanding service performance is the result of the implementation of our Total Quality Leadership (TQL) program which is designed to build repeatable quality into our products "the first time". Integral to the program is our routine Quality Review Board that falls under the purview and advisory oversight of the Quality Manager. B3GLOBALCON builds control measures into our plans and procedures as a way of maintaining accountability and responsibility for program support services. We use control measures to identify potential problems early so we can take immediate corrective action and still meet the milestones and high standards for quality that we set for the activity or project. The following table lists the types of control measures B3GLOBALCON would implement to monitor and maximize quality.
Control Measure
Purpose
Data Collection Method
Reports
Current status of program, projects, systems
Staff input and automated systems available on-line
Milestones
Monitor schedule and project progress
Comparison of planned to actual milestones available on-line
Visits
On-site verification of support services
Personal observations, informal face-to-face communications
Periodic meetings
Obtain customer guidance and feedback
Written notes, minutes, action items, and milestones available on-line
User feedback
Gauge user satisfaction/ dissatisfaction
Regular informal meetings with customer managers
QA Routing Review Form available on-line
Financial reports
Identify financial status, issues, and problems, ensure accuracy
Corporate financial management system reports
PM verification of reports available on-line
B3GLOBALCON's Quality Control Measures ensure quality and cost control.
The quality of the personnel we hire and manage is critical to our TQL approach in that our philosophy extends responsibility for the quality of work to each individual. Every employee is empowered to use the resources necessary to produce quality services and products, and is held responsible both for that quality as well as for the resources used in achieving them. We have found that empowerment and a sense of control are the best motivators to a true professional. Our program succeeds through management-employee teamwork and a quality assurance (QA) umbrella of activities covering all processes and procedures. B3GLOBALCON's TQL program starts with the personal commitment of our president and is implemented through a comprehensive management system that empowers individual employees and promotes teamwork. B3GLOBALCON employees are focused on customer satisfaction. All managers and employees are involved in the improvement of our work processes and organization – ennuring the quality of our products and services while meeting our cost reduction goals.
To gain maximum benefit of "lessons learned" and to enhance product quality and operational productivity, B3GLOBALCON's corporate level Quality Manager is responsible for collecting valuable data points throughout task performance and development of systemic improvements for organizational incorporation. The Quality Manager is responsible for quality assurance through the TQL process, ensuring product quality, and conducting quality training such as process mapping and documentation. The Quality Manager is also responsible for evaluating new technologies for applicability in reengineering and improving management and task processes. The Quality Manager reports directly to B3GLOBALCON's president on all performance related issues.
Quality performance begins with the selection of responsible, qualified project personnel who have demonstrated a successful track record producing high quality work. All of the B3GLOBALCON Team's proposed Key personnel will have proven experience in elements of the Seaport – e Statement of Work. B3GLOBALCON's Program Manager (PM) will assign taskings to qualified personnel who are technically competent to perform on the particular task and who understand customer requirements and expectations. The PM will ensure that Team personnel are fully supported on each task with sufficient administrative and financial resources.