Kevin Beam
President
Kevin Beam is a retired U.S. Army officer, and is President and owner of B3GLOBALCON LLC which he formed in 2007. He has over forty years' experience leading and managing logistics and engineering organizations in the private and public sectors. Prior to standing up B3GLOBALCON; he was a founding owner, Vice President, and CFO of Logistics 2020, Inc. Previously, Mr. Beam was the Program Manager and lead analyst for the Defense Logistics Agency Office of Operations Research and Resource Analysis (DORRA), Theater Distribution Team (TDT); and for the $15.7 million DLA J-3 sponsored Office of Secretary of Defense Joint Theater Distribution, Joint Test and Evaluation (JTD JT&E).
His active duty Army assignments include three years as a logistics policy analyst at the Army's Federally Funded Research and Development Center (FFRDC), the Arroyo Center, RAND Corporation; four years as a professor in the Department of Mathematical Sciences, Untied States Military Academy, West Point, NY; and five years (two years as company commander) in the 801st Maintenance Battalion, 101st Airborne Division (Air Assault).
Mr. Beam is a graduate of the United States Military Academy and he earned a M.S. in Systems Management from the University of Southern California; and a M.S. and a Ph.D. in Operations Research and Statistics from Rensselaer Polytechnic University, NY.
Ady Lupascu
General Manager, Europe
Ady Lupascu is a retired Romanian Navy Commander; and is the General Manger of the foreign subsidiaries companies, B3GLOBALCON Romania S.R.L., B3GLOBALCON Polska Sp. z o.o., and B3GLOBALCON Bulgaria EOOD since 2008.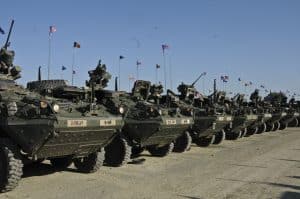 His active duty highlights include strategic planning and participating in International NATO exercises and deployment of Romanian Naval forces. Romania sent Mr. Lupascu to train with the USMC at Quantico two separate times. He has a depth of experience in planning and executing complex, joint and combined, exercises, at sea and on land as a liaison officer for the Romanian Naval Forces Staff during Operation Enduring Freedom (OEF) support operations executed from Mihail Kogălniceanu Airbase, Romania. He served as part of the J3 Staff and was responsible for land and naval movement associated with the operations conducted at Mihail Kogălniceanu. Mr. Lupascu also served on the International Military Cooperation Officer team during the negotiations for the establishment of the Black Sea Naval Cooperation Task Force from 1998 to 2006; and participated in staff negotiations talks with Naval Forces from the U.S., NATO, and Black Sea Countries.
Łukasz Kuleczka
Country Manager, Poland
Łukasz Kuleczka is the in-country Manager of the Polish subsidiary, B3GLOBALCON Polska Sp. z o.o. since 2017.
Mr. Kuleczka is a graduate of the University of Zielona Gora where he obtained a Bachelor's Degree in Economic Sciences, and of Poznan University of Economics where he obtained a Master's Degree in International Economic Relations with a major in International Logistics.
His professional career highlights include four years in the logistics divisions of international companies including Rockwool Polska Sp. z o.o. and Advanced Digital Broadband Polska Sp. z o.o. (ADB).  Mr. Kuleczka has captured and managed several B3GLOBALCON contracts supporting the US Army, US Navy, and AAFES at fifteen sites throughout Poland and Lithuania.